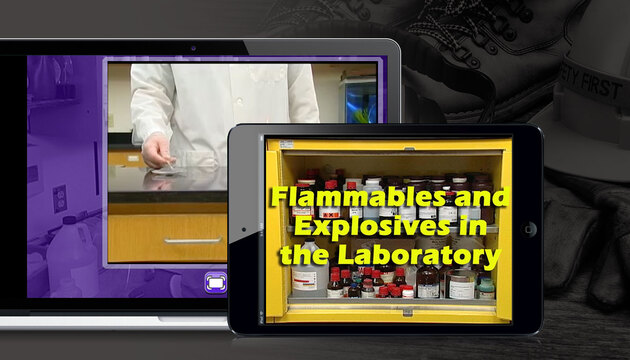 Flammables & Explosives in the Laboratory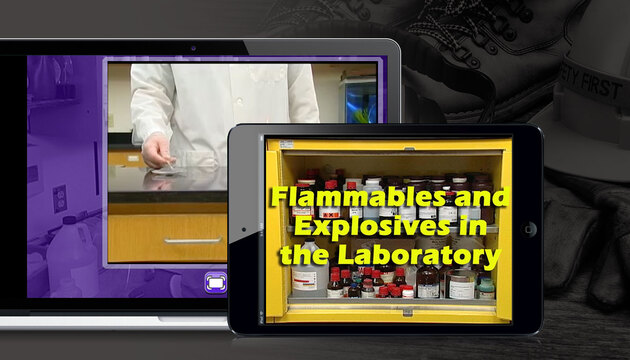 Description
MARCOM's interactive course on Flammables and Explosives in the Laboratory discusses the nature of flammable and explosive materials, as well as hazards associated with their use. It also reviews the proper handling procedures and personal protective equipment that should be used when working with these substances.
Flammables and explosives are some of the most dangerous materials used in a laboratory. When working with these substances, employees need to know their characteristics, as well as how to prevent accidents and injuries when using them.
Areas covered in the course include definitions of flammables and explosives, conditions that can create hazards, the role of ventilation in preventing problems, transporting flammables and explosives, storage considerations, using compressed gases, emergency planning, disposal, and more. Using a powerful combination of audio, full-motion video, text and colorful graphics, this course provides the most cost-effective safety and regulatory compliance training available today. The course is divided into a number of logical sections so information is easily understood... and retained.
MARCOM's online courses come with a comprehensive and easy-to-use learning management system (LMS). With this system you can establish your own training environment by setting registration requirements and defining log-ins, create curricula for various positions and departments, set up tests... and more.
The system also tracks all employee activity and performance, including, which courses employees have taken, when the courses were taken, test scores, and other important data. This information can be accessed online as well as printed in hardcopy form.
Course Outline
This course discusses the various factors and conditions that can make a chemical either flammable or explosive, as well as how potentially flammable and explosive chemicals should be handled, stored and disposed of. Upon completing this course, employees should: - Understand what can make a substance flammable or explosive. - Know how to properly use, store and dispose of flammable and explosive chemicals. - Understand how to handle an emergency situation involving a flammable or explosive material.